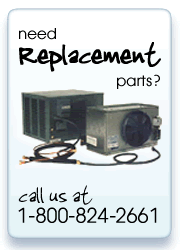 Completely Automatic!

Save Space!
Installed through top or side-wall close to ceiling, KOLD PACK units consume a minimum of space within the storage area.

Where the "Plug" unit can't be used, these fully automatic Split-Systems are the answer. Separate units are precharged and furnished with quick connect refrigerant lines and quick connect power line, just bring power to the junction box. Install in minutes without special tools or training.

Accurately Rated!
Safely protects refrigerated products.
Easiest Possible Installation!
All models can be installed with simple tools, in minimum time, in new or existing cabinets, cooler rooms, and cold storage buildings.

Low Initial Cost and No Routine Maintenance!

Economical KOLD PACK units are as dependable as domestic refrigerators.